Mirka Abranet Pad Saver for Mirka Delta Sanders!
Sacrificial pad with H&L on one side and Grip on the other.
Place between sander's backup pad and Abranet Sanding Discs.
Prevents wearing of H&L face on more expensive sander backup pads.
Easily replaceable and low cost.
Helps to improve collection airflow through Abranet mesh.
6" x 6" x 4" for Mirka DEROS Delta Sander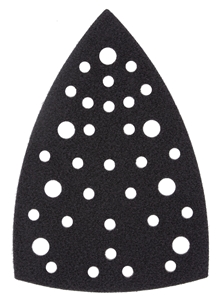 Related Products
Mirka Abranet 6"x6"6x4" Delta H&L Mesh Discs. Range 80 to 400 grit.
Mirka DEOS Delta Sander - Flawless from Corner to Corner. Direct Electric Orbital Sander.