Whirlwind Inline Air Filter
by DeVilbiss
Economy inline Air filter provides protection from moisture, oil and particles immediately ahead of the spray gun inlet.

Manufactured of tough, lightweight Delrin, this disposable filter attaches directly to spraygun.

Perfect for non-dedicated spraying setups such as hobby or small shop work!

Works as secondary filtration from contaminants that occur in air hoses after main filtration system in professional spray setups.

Another of the simple things to ensure high quality spraying results...
Tough Plastic (delrin) construction.
1/4" NPT Male Inlet attaches to airline quick-connect.
1/4" NPT Female outlet attaches directly to gun inlet.
Water droplets are removed in Whirlwind chamber prior to moisture and oil filtration through internal media in second chamber.
Longer life because filtering media doesn't become saturated with water droplets.
Low Pressure loss due to large surface area of internal filtering media.
Handles up to 20 CFM with 2 psi loss at 80psi line pressure.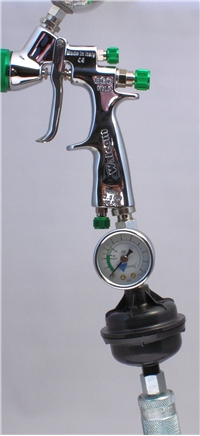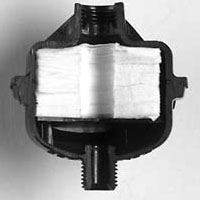 Related Products
Walcom EGO Carbonio 190 Detail Spray Gun. This is an incredible mini-style spray gun with full controls that is perfect for small project work including guitars, jewellry boxes, small furniture and touch-up work. One of the finest detail spray guns on the market!